University President's Investment Fund
One-time or recurring gift*?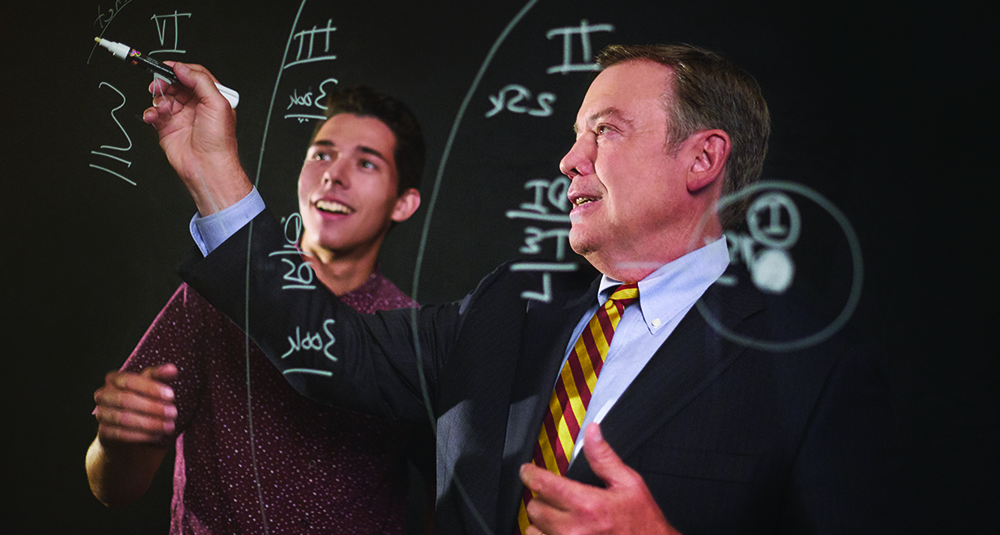 Learn more about your impact
President's Club supporters are fearless innovators who believe in good, accelerate change, and empower solutions through their support of ASU's president.
Through your support of the President's Club, you ensure the success of Arizona State University. Traditional resources available within a state university system do not allow it to operate with the flexibility and dexterity today's competitive economy requires. President's Club supporters look beyond tradition to entrepreneurship and innovation, leveraging philanthropic investments to advance ASU's charter.
Your gift funds vital emerging initiatives, strategic alliances, and innovative programs throughout ASU's knowledge enterprise. This year, areas of special emphasis include:
Serving our veterans
Serving the underserved through humanitarian efforts.
ASU as a university with global impact.
Contact Lindsy Manning, Senior Director, Engagement, at lindsy.manning@asufoundation.org or Alan Sandler, Director of Development at alan.sandler@asufoundation.org for more information.
The President's Club has always held a special role at the university. The men and women of the President's Club embrace ASU's mission and energize the university to excel and surpass what has been accomplished so far."
Impact of Donor Support
Donors bring the world's brightest minds to Arizona by supporting endowed chairs and professorships.
Leaders rise to the top. The Tip of the Fork program enables Sun Devil student-athletes to develop leadership skills through volunteering in their community.
Entrepreneurship thrives at ASU. Two examples: The Prepped program supporting minority entrepreneurs has fueled 100 small businesses.
And the Edson Student Entrepreneur Initiative has supported 1,000+ students and 297 unique ventures over 15 years.
Many of these students have gone home where they are successful entrepreneurs, corporate executives, venture capitalists, impact investors and senior government officials. The come home with a powerful American business education taught in a culturally sensitive environment, and respectful of the nuances of our cultural differences."