College of Health Solutions
ASU Speech and Hearing Community Fund
One-time or recurring gift*?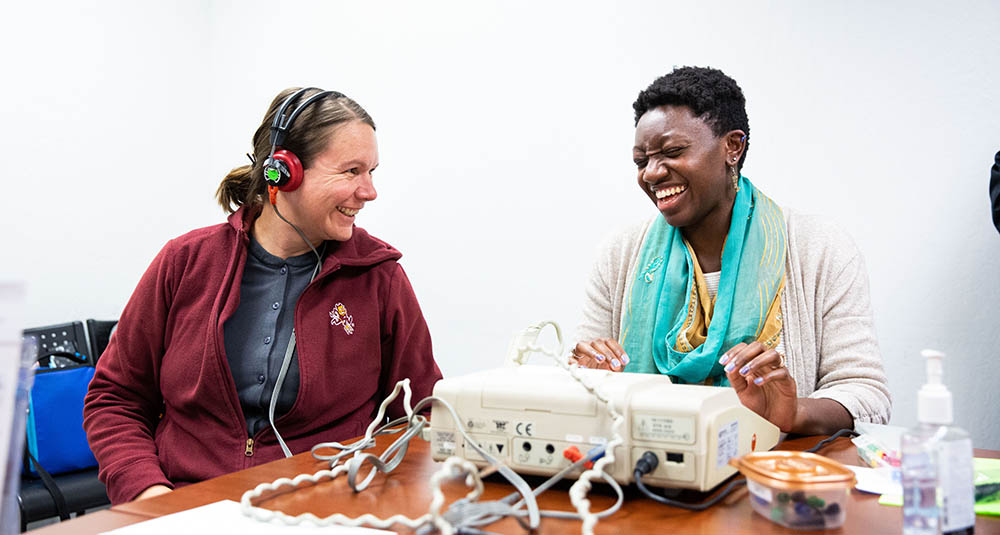 Learn more about your impact
Speech and hearing disorders can be devastating for those who are unable to receive a diagnosis or treatment. For children, they can delay development and achievement in school. For adults, they can be socially isolating and fraught with frustration.
Students and faculty in the ASU Speech and Hearing Clinic have been offering critical diagnostic and treatment services for many years, providing high-level care that helps improve self-esteem and quality of life.
The College of Health Solutions has a vision to help more people receive these critical services. Currently, the clinic can offer free or reduced services to only 10 of its 300 patients. We turn away about 50 potential patients due to lack of insurance and lack of funding.
With your support to the ASU Speech and Hearing Community Fund, the college can expand clinical specialty areas, decrease the number of underinsured and underserved members of our community and provide greater access to community services.
Your gifts also help students who receive training in the clinic. You help support the hands-on, supervised training that prepares them to step into the professional world of speech pathology or audiology.
Impact of Donor Support
More learners can pursue higher education. In 2022, 22,000 donors contributed $66.3 million for scholarships.
More students succeed. ASU ranks #1 among the state's public universities for its 86% first-year retention rate thanks in part to donor-funded student success initiatives.
And donors helped ASU offer more than 4,500 hours of free tutoring.
I believe ASU is a major life force in our community and I want to do my part to help it thrive."