New College of Interdisciplinary Arts and Sciences
One-time or recurring gift*?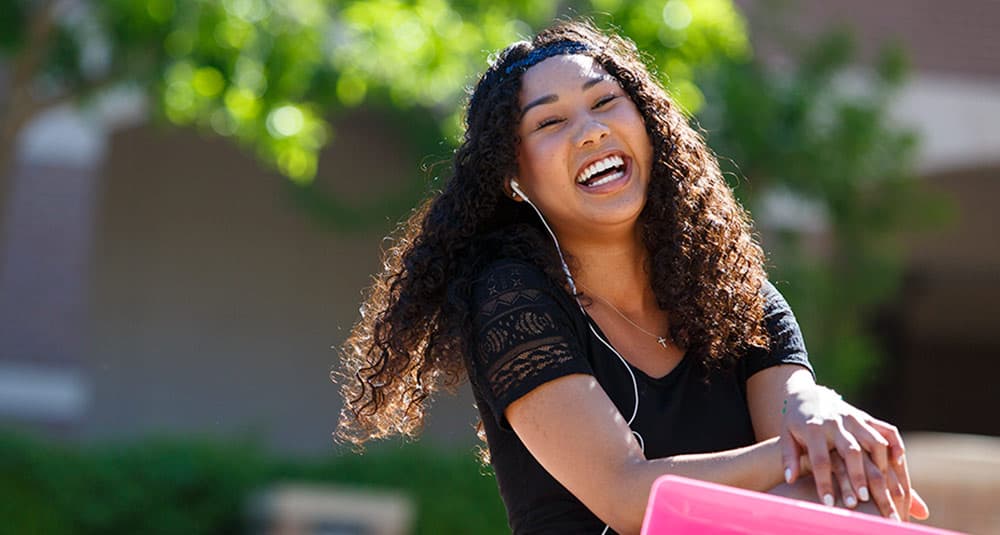 Learn more about your impact
At New College, West Campus, nearly 40% of our students are the first in their families to attend a university, and 50% are underrepresented minority students facing many financial barriers and burdens.
Financial barriers should never deter a talented youth from earning a quality degree. Scholarships afford students to stay on the path to graduation and they are the most immediate way to grant the opportunity to our students to pay for tuition and books and complete their educational journeys. With your gift to this scholarship, you transform the lives of our students and their families and their future successes for generations to come.
These critical scholarship dollars are directly invested in the lives of our students, augmenting academic offerings and giving more students the opportunity to graduate with the advantage of transformative education. Now more than ever, gifts like yours are vital to ensuring our students receive an invaluable education that prepares them for today's dynamic world for future generations. We are sincerely grateful for your philanthropic investment in making everything possible for our students' future successes.
Impact of Donor Support
On April 18, 1984, Gov. Bruce Babbitt signed Senate Bill 1245, officially establishing West Campus. Since then, New College, West Campus has continued to grow and served as a significant educational institution in the West Valley. Celebrating the 40th anniversary of our beautiful campus in 2024, we witnessed 49% admission growth since 2015, and we welcomed the largest class to date this year.
This important milestone anniversary marks a significant moment for us to renew our commitment to providing transformational education to our students and honoring the invaluable support our donors provide. In addition, West Campus is expanding! We are building a new residence hall and an academic facility to accommodate the tremendous enrollment growth.
New College, West Campus, now offers more than 120 degrees, a 130% increase in programs such as cybersecurity, business, health solutions, global management, disability studies and arts and performance.
Since 2008, we awarded more than $5.7 million in scholarships to over 2,300 West Campus students. We aim to build a foundation of support for generations of students to pursue their educational goals and boost career readiness and successful professional transitions. Your gifts empower our students to pursue their dreams.
Our family believes in giving back and sharing the blessings we have received financially and through our time."