Ira A. Fulton Schools of Engineering
Polytechnic School Scholarship
One-time or recurring gift*?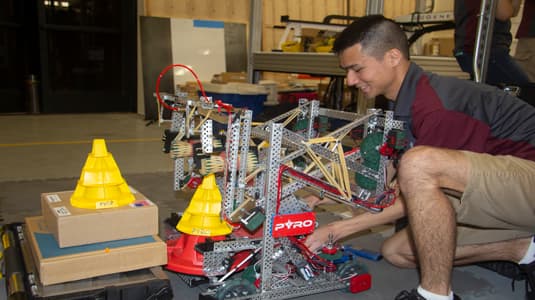 Learn more about your impact
The Polytechnic School Scholarship provides scholarship support to our engineering, aviation, environmental and resource management, graphic information technology, technological entrepreneurship and management and other students studying at the Polytechnic School who demonstrate financial need. Every dollar makes a difference for our students and allows them to focus more on pursuing their degree and getting the most out of their college education.
With this scholarship, I will be able to concentrate on my studies without the worry of my finances. I come from a Diné family of ASU graduates and they highly value higher education. Thankfully, with your selection, I will continue to make my family proud as I am a second generation student to attend a university. I chose to attend Ira A. Fulton Schools of Engineering because I was raised by a single parent who served as a role model and was my main motivation in choosing to follow my mother's career path in Engineering."
Impact of Donor Support
More learners can pursue higher education. In 2022, 22,000 donors contributed $66.3 million for scholarships.
More students succeed. ASU ranks #1 among the state's public universities for its 86% first-year retention rate thanks in part to donor-funded student success initiatives.
And donors helped ASU offer more than 4,500 hours of free tutoring.
Our family believes in giving back and sharing the blessings we have received financially and through our time."